Your patients expect you to offer a great Telehealth experience that follows them anywhere. Using Backline to connect with your patients results in better outcomes and reduced costs.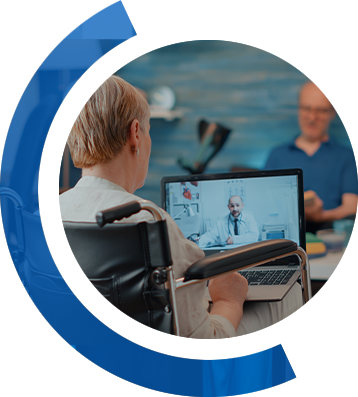 With Backline, patient care teams can drive and control the entire Telehealth process and use the latest technology tools seamlessly with your current on-site patient workflow.

Simple and adaptive workflow with virtual Exam Rooms matches how your team treats patients on-site

Easy SMS text communication with the option of switching to high-quality video chat at any time

Multiple care teams and family members can participate in the same Telehealth session—no matter their location—with or without downloading an app
Backline Telehealth removes barriers to providing virtual care and
improves care coordination

including:

Makes virtual care easier
for you while providing
an exceptional patient experience

Greater cost
efficiency using the
latest Telehealth technology

Making virtual
patient visits work
just like onsite visits
Our goal is to expand the use of Backline to more patients and physicians to make [virtual] post-op follow-ups easier for everyone and to improve surgical outcomes."
- Attending Anesthesiologist
Orthopedic Surgery Center
100% Customer Satisfaction Rating with Backline's Video Calls.
- TechValidate
Survey
WATCH THE WEBINAR:

Customer Success Story featuring Dr. Steve Schwartz of Potomac Physicians Associates as he talks about optimizing patient care utilizing Backline.
Backline's HIPAA-Compliant Telehealth & Secure Messaging