Backline's patient engagement platform for healthcare helps caregivers improve outcomes. Today, patients and their families play an integral role in their care. Engaged patients are more likely to follow their treatment plans, which in turn leads to lower hospital readmission rates and healthcare costs—and of course, healthier, more devoted patients.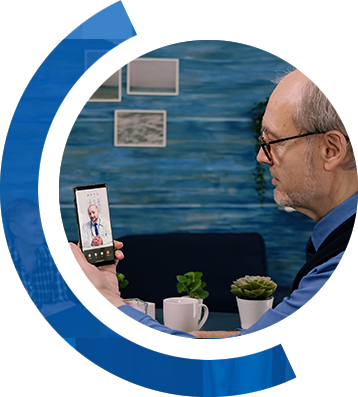 Backline allows users to reach out directly to a patient or family member simply and securely through text, voice, or video. This enables timely follow-up care, and it's an easy way to increase patient touch points. In addition to direct patient communication, Backline supports engagement with entire segments of your patient population at once via mass messaging.
Use one platform to communicate with patients, share discharge instructions and other educational materials, send appointment and prescription refill reminders, request information and electronic signatures via interactive forms, and more.
With Backline, patient engagement is:

Secure and easy–for both the care team and the patient

Accessible to patients on mobile devices, tablets, or PCs without downloading an app
Backline helps you
engage patients more effectively

by:

Complementing patient interactions with virtual touch points and easily accessible information and reminders

Decreasing the burden
on patients with simple,
secure communication

Allowing two-way
communication where patients
can clarify instructions and ask more questions to make informed decisions about their health
"Backline is user-friendly for a variety of user types. It's one of our programs that people catch on quickly to navigating and it facilitates communication in a secure method with a variety of communication types."
- Nikki Hollis
Nurse at Community Hospice of Northeast Florida, Inc.
READ THE CASE STUDY:

"Backline has improved the nature of our care visits and increased our efficiency exponentially. Before Backline, our nurses could feasibly see 10 patients in a day. Now, we see 20 patients a day. That's incredible."
- Douglas County Youth Detention and Behavioral Health Center

Read the Case Study
According to the Commonwealth Fund, hospital programs that enable patients to receive acute care at home have proven effective in reducing complications while cutting the cost of care by 30 percent or more.
- Commonwealth Fund