Aligning clinicians across the care continuum plays a significant role in ensuring positive patient outcomes. Backline makes completing consults and referrals faster and easier.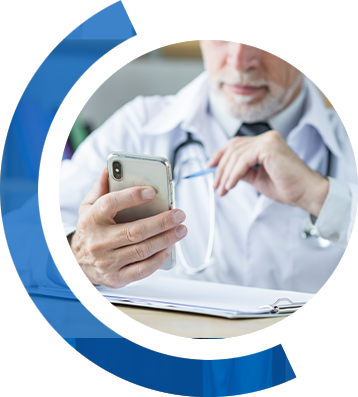 Backline streamlines consult and referral workflows with flexible communication paths and integration with your other clinical systems.

When a clinician enters a consult order in the EMR, Backline can automatically launch a secure discussion with the on-call specialist in real time. No more calling, paging, and waiting.

Multiple care team members, inside or outside your organization, can join text, voice, and video chats for optimal collaboration. You can even include the patient and their caregivers.

Quickly and easily coordinate patient referrals and share supporting results, records, and forms securely.
Using Backline to support
consult and referral workflows

gives you:

Increased speed - A large academic medical center increased their consult speed by 89% using Backline

An immediate, secure connection with anyone for a referral or consult, even outside of your organization, without the need for outside parties to download an app

Real-time confirmation of external referral requests and timely follow up with patients
I love the fact that you can do a 1-on-1 chat with either a patient or a provider.
- Janie Roberts
Clarian Health Partners, Inc.
WATCH THE WEBINAR:

Customer Success Story featuring Pamela Agee-Lowery, MSN, RN, Nurse Manager at Douglas County Youth Center as she shares perspectives on "Enhancing Behavioral Healthcare Delivery with Care Collaboration Technology".
We had an ER patient with a broken hip. The patient was sent with a CD of their x-rays to the outside specialist, but they could not access it. With Backline, we quickly forwarded the x-rays.
- Carrie Main
Director of Health Information Systems at Ringgold County Hospital

Read the Case Study